The Blue Ram Costume is based on the theme of a jester. Sakura wears this costume when she has to change the Erase card to a Sakura Card when she is trapped in a hole, and thousands of toy sheep are falling on top of her.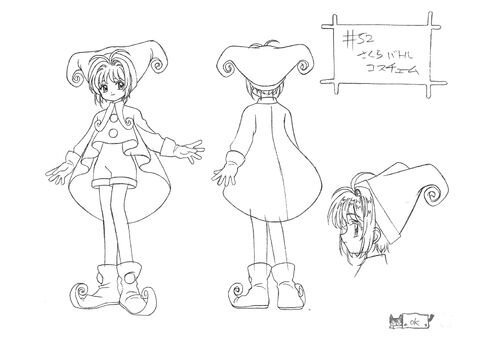 Design Description
This costume has a cream/yellow bodysuit with a large blue dress. The blue dress overlaps on the bodysuit and the front part of the dress only extends to the bottom of Sakura's chest. The skirt is very wide and frilly and falls just below Sakura's knees. Since the front part of the dress is very short, the skirt only really covers the back of Sakura. On the front of the dress, there are 2 pom-poms that serve as buttons and a rather curly collar. The dress has sleeves and also there are yellow gloves over the sleeves. The body suit is very short although at the end of the bodysuit, the fabric is turned upwards.
This costume uses long cream tights and the shoes are light blue with a cream pom-pom on the front of each shoe. The shoes are based on a jester as the tip of the shoe is folded upwards into a circle. Lastly, the hat is light blue with a yellow rim and it is also based on a jester as on both sides of the hat, the hat is curled up
Gallery
Community content is available under
CC-BY-SA
unless otherwise noted.