Cardcaptor Sakura: Clear Card (カードキャプターさくら クリアカード編 Kādokyaputā Sakura Kuria Kādo-hen) is a Japanese shojo manga series written and illustrated by the manga group CLAMP. It is a sequel to Clamp's manga Cardcaptor Sakura and focuses on Sakura Kinomoto in junior high school. The manga began serialization in Kodansha's Nakayoshi magazine with the July 2016 issue.
A 22-episode anime television series adaptation ( Episodes 71-92) by Madhouse, featuring the cast and staff from the original series, premiered in January 2018. However, it only a few chapters of the manga, leaving the opportunity for a second and third season unknown to desperate fans.
Plot
The new series starts at the point where Cardcaptor Sakura ends, when Sakura starts junior high school along her friends - including Syaoran, who had just returned to Tomoeda. After having a dream with a mysterious cloaked figure, all of Sakura's cards turn "clear" (blank) and are rendered powerless; thus she starts her quest to find out what is wrong with them. In doing so, Sakura and her allies discover and capture new Clear Cards using a new key and incantation to attain them.
Characters
See also: Cardcaptor Sakura characters
While several characters can be considered main characters due to their importance to the plot, Sakura Kinomoto is the main protagonist of the story.
Main
Recurring
Supporting
Media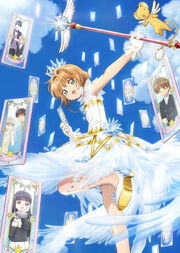 Manga
See also: List of Cardcaptor Sakura chapters
A sequel manga series titled Cardcaptor Sakura: Clear Card Hen (カードキャプターさくらクリアカード編 Kādokyaputā Sakura Kuria Kado-hen?) began serialization in Nakayoshi from the July 2016 issue and sold on June 3. This sequel follows Sakura in junior high school and introduces the mysterious "clearing" of the fifty-three Sakura Cards.
Anime
An anime television series adaptation of the Cardcaptor Sakura: Clear Card Edition sequel manga was announced for January 7th, 2018, with Asaka, Ohkawa, and Madhouse returning from the original anime series to direct, write, and produce the new adaptation, respectively. The main cast from the original anime also return to reprise their roles. It is incomplete, having done some part of the manga with only twenty-two episodes. The anime is said to continue in late 2020 or early 2021 to properly conclude the anime.
Anime PV
Home Release Contents Gallery
Community content is available under
CC-BY-SA
unless otherwise noted.