Honey
Singer
chihiro
In album
Honey
Release
May 21, 1999
Genre
J-Pop
Length
4:20
Language
Japanese
Episode
Episode 36-46
Honey is the ending song to the second season of Cardcaptor Sakura, sung by Chihiro. There is also a version sung by Sakura Tange, the voice actress who plays Sakura Kinomoto.
Video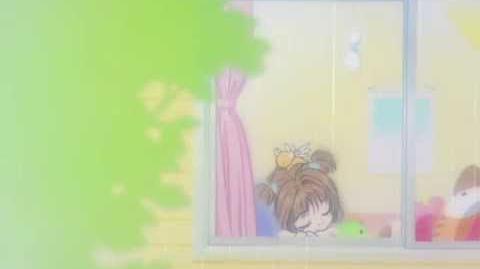 Lyrics
madobe ni hitori hoodzuetsuite
yamanai ame wo jitto mite'ru
kyou wa zutto hitori
ima goro nani wo shite'ru no ka na
hiroiatsumeru kioku wa takaramono
KYUN to shichau

Ah fushigi da ne
omoidasu dake de
yasashiku nareru

atatakai MIRUKU ni
amaku hirogaru HACHIMITSU mitai da ne
kokoro tokasu yo
sono hohoemi wa sou totteoki no Honey

miageru sora ORION no RUBI-
watashi dake no PURANETARIUMU ni ne
youkoso kon'ya mo
issho ni iru to mitsumerarenai
ima wa hyakuman-bai no ZU-MU APPU de
sora ni egakou

Ah suteki da ne
donna toki datte
soba ni iru mitai

kanashii namida ni
hiza wo kakaete nemurenai yoru demo
yuuki wo kureru yo
sono hohoemi wa sou totteoki no Honey

tsubasa wo hirogete
maiorite kuru hoshizora no you da ne
tsuyoku nareru yo
sono hohoemi wa sou watashi dake no Honey
Alone, I lean on the windowsill, my cheek resting on my palm
staring at the endless rain
I've been alone all day
I wonder what you're doing right now...
The memories I collect are precious treasures
Making my heart wrench

Ah Isn't it strange?
Just remembering
makes me affectionate.

Just like honey
spreading out sweetly in warm milk
My heart dissolves
Your smile is the finest honey.

Looking up in the sky at Orion's Ruby
In my very own planetarium
Welcome back again tonight
When we're together, I can't gaze at the stars
Now let's zoom up 100 thousand times
and draw in the sky

Ah Isn't it wonderful?
It's like
you're always by my side

On nights when I can only curl up
and cry sad tears
you give me courage.
Your smile is the finest honey.

I spread my wings wide
and alight from Heaven, like the star-filled sky
I can be strong!
Your smile is my very own honey.
窓辺にひとり頬づえついて
止まない雨をじっと見てる
今日はずっとひとり
今頃何をしてるのかな
拾い集める記憶は宝物
キュンとしちゃう

Ah 不思議だね
思い出すだけで優しくなれる

暖かいミルクに
甘くひろがるハチミツみたいだね
心溶かすよ
その微笑みはそう とっておきの Honey

見上げる空 オリオンのルビー
わたしだけのプラネタリウムにね
ようこそ 今夜も
一緒にいるとみつめられない
今は100万倍のズームアップで
空に描こう

Ah 素敵だね
どんな時だってそばに居るみたい

悲しい涙に
ひざをかかえて眠れない夜でも
勇気をくれるよ
その微笑みはそう とっておきの Honey

つばさをひろげて
舞い降りてくる星空のようだね
強くなれるよ
その微笑みはそう わたしだけの Honey
Gallery