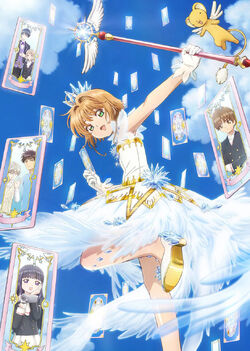 This is a list of episodes for the second anime series Cardcaptor Sakura: Clear Card.
Story
This new series is set after the events of the second movie, with a 12-year-old Sakura entering Middle School as a sixth grader freshman. It consists of just twenty-two episodes, conducing on an open-ended cliffhanger; much to the disappointment of many longtime fans.
Soundtrack
Home Release
The series was released in Japan on Blu-ray and DVD in eight volumes from May to November 2018. Funimation was release a Blu-ray in North America containing the first 11 episodes on February 5, 2019 and was release 12 through 22 on July 2, 2019.
Episodes
Ep. #
Pic
Episode Title
Original Airdates
Prologue
"Sakura and the Two Bears"
"Sakura to Futatsu no Kuma" (プロローグ さくらとふたつのくま)
September 13, 2017
1
"Sakura and the Clear Cards"
"Sakura to Tōmei na Kādo" (さくらと透明なカード)
January 7, 2018
2
"Sakura and the Room with No Exit"
Sakura to Deguchi no Nai Heya (さくらと出口のない部屋)
January 14, 2018
3
"Sakura's Heavy Rain Alert"
Sakura no Ōame Chūihō (さくらの大雨注意報)
January 21, 2018
4
"Sakura and the Lovely Transfer Student"
Sakura to Suteki na Tenkōsei (さくらと素敵な転校生)
January 28, 2018
5
"Sakura Feels a Pull at the Flower Viewing"
Sakura to Ohanami Hipparidako (さくらとお花見ひっぱりだこ)
February 4, 2018
6
"Sakura, the Rabbit, and the Song of the Moon"
Sakura to Usagi to Tsuki no Uta (さくらとうさぎと月の唄)
February 11, 2018
7
"Sakura and a Game of Tag in the Garden"
Sakura to Oniwa de Onigokko (さくらとお庭でおにごっこ)
February 18, 2018
8
"Sakura, the Clock, and a Hide-and-Seek Game"
Sakura to Tokei to Kakurenbo (さくらと時計とかくれんぼ)
February 25, 2018
9
"Sakura's Thrilling Aquarium Visit"
Sakura no Dokidoki Suizokukan (さくらのドキドキ水族館)
March 4, 2018
10
"Sakura and the Sleeping Labyrinth"
Sakura to Nemuri no Rabirinsu (さくらとねむりのラビリンス)
March 11, 2018
11
"Sakura and the Upside-down Penguin"
Sakura no Sakasama Pengin (さくらとさかさまペンギン)
March 18, 2018
12
"Sakura and the Ball Game Tournament of Ice"
Sakura to Kōri no Kyūgi Taikai (さくらと氷の球技大会)
March 25, 2018
13
"Sakura and Meiling's Return"
Sakura to Tadaima Meirin (さくらとただいま苺鈴)
April 8, 2018
14
"Sakura, the Shrine and the Zoo"
Sakura to Jinja to Dōbutsuen (さくらと神社と動物園)
April 15, 2018
15
"Sakura's Nostalgic Viewing Party"
Sakura no Omoide Kanshō-kai (さくらのおもいで鑑賞会)
April 22, 2018
16
"Sakura and Meiling's Friend"
Sakura to Meirin no Otomodachi (さくらと苺鈴のおともだち)
April 29, 2018
17
"Sakura and the Crazy Sweets"
Sakura to Okashi na Okashi (さくらとおかしなお菓子)
May 6, 2018
18
"Sakura and the Fire and Water Birds"
Sakura to Honō to Mizunotori (さくらと炎と水の鳥)
May 13, 2018
19
"Sakura and Akiho's Lullaby"
Sakura to Akiho no Komori-uta (さくらと秋穂の子守唄)
May 20, 2018
20
"Sakura, Rainbows, and Grandpa"
Sakura to Niji to Ojiisan (さくらと虹とおじいさん)
May 27, 2018
21
"Sakura, the Mirror and the Key of Memories"
Sakura to Kagami to Omoide no Kagi (さくらと鏡と思い出の鍵)
June 3, 2018
22
"Sakura's Clear Cards"
Sakura no Tōmei na Kādo (さくらの透明なカード)
June 10, 2018
Community content is available under
CC-BY-SA
unless otherwise noted.