The Pink Space Cadet Costume is the third outfit that Tomoyo made for Sakura.
The entire outfit is made of elastic and not rubber, making it more comfortable to wear and increase mobility.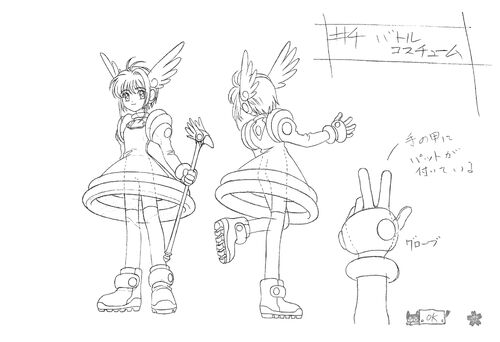 Design Description
A light pink dress with two white rims around the skirt to create a futuristic look. A golden plate is placed in between the pink and white part of the chest to secure the two in place. The shoulders also have double rims that extend into long sleeves and gloves, the top of the sleeve including a button. The gloves have a pink hand guard pinned with two buttons, and there is a cuff around the wrist. Thigh-high stockings of white, along with a pair of white ankle boots that has a pink cuff and a pink base is worn with the ensemble. The boots have a rubber gripping on the base for better stability of movements. Accessories include a pink headband, each end including a white wing accessory.
Gallery
Trivia
It's original purpose wasn't to capture a Clow Card, but to be used in Tomoyo's film, "Sakura Dances in the Jungle".
Community content is available under
CC-BY-SA
unless otherwise noted.