True or False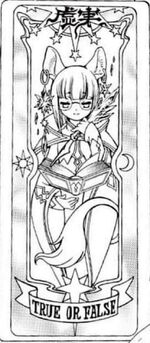 First Appearance (Manga):
Chapter 58
True or False (Kanji: 虚実, Katakana: トゥルー・アー・ファルス, Romanji: Kyojitsu) is one of the Clear Cards which Sakura secured after the mysterious clearing of the Sakura Cards.
Appearance
The card shows a young woman in a long robe, animal ears with crystal-embellished earrings, sitting with a book floating on her board and a large quill in hand.
The card's appearance resembles that of Naoko Yanagisawa due to the readings that Sakura had with her about the play of The Two Alices.
Magical Abilities
Trivia
Gallery