Hello, my name is DuchessDream, I am a new Bureaucrat and Admin! Naikiw recently has stepped-down/ is taking leave and has granted me bureaucrat status. If you have any questions or concerns about the wiki, articles or series, please do not hesitate to ask me or any of the other admins!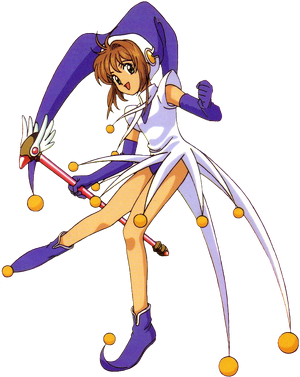 My Focus
My main focus on this wiki (and most others) is to:
Keep it organized
Make it easy to access
Replace low resolution images with higher resolution images
Corrections in grammar and punctuation (Proof reading)
Accuracy
CCS or Cardcaptors?
Some may roll their eyes when I say "I like Cardcaptors!". I have never seen the original Japanese dub. I feel there is a large difference in tone between CCS and Cardcaptors. It was one of the first anime I'd seen on TV (Sailor Moon may have been the first.)
Overall, I only know about the 90's version. I have yet to read or watch the Clear Card Arc, so I don't edit anything to do with it (other than proof reading and linking). I very much enjoy the look of the 90's version.
Merchandise?
I do own some of the original Cardcaptors merch. as well as some 90's CCS merch. as well. I have made a list and linked some of it to myfigurecollection.net for further information.
Cardcaptors DVD vol. 1 - 9
Cardcaptors: The Movie - Special Edition DVD
Cardcaptors UpperDeck TCG cards
Cardcaptor Sakura manga vol. 1 - 12
Cardcaptors Scholastic Junior Novel vol. 1 - 3
Cardcaptor Sakura Star Key key-chain (Chinese bootleg)
Cardcaptors Li and Sakura poster
Cardcaptors: Challenge of the Clow Spirits Game board-game
Cardcaptor Sakura Showa Note colouring book
My Favourite Wikis (and My Status)
Admin , Bureaucrat & Mod
Member